Multi Domain Integration Working Group
The MDI WG will investigate and shape solutions that enables the Governments strategy to enable military capabilities with other instruments of national power, allies, and partners; configured to sense, understand, and orchestrate effects at the optimal tempo, across the operational domains and levels of warfare in the most efficient way.
Purpose
The group provides a business and academic focus on the strategic requirements to enable delivery of MDI solutions, supported by subgroups focusing on specific advice, research, specifications, standards and commercial models.
Objectives
Its task-focused engagements will provide a means for Industry, academia and government bodies to engage with the Defence Community and the MOD equivalent policy makers.
Contact
For further details please contact Steve Worsnip.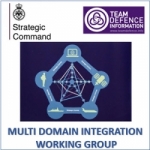 Multi Domain Integration Working Group Documents
| Title | Date | Link |
| --- | --- | --- |
| MDI Charter for TD-Info engagement | 21/Jan/2022 | |
| 20220412-Key Messages from MDI Integration Diagnostic Deep Dive – 12th April 2022 final | 12/Apr/2022 | |
| 20220412-Chat extracts from the MDI Integration Diagnostic Deep Dive – 12th April 2022-1 | 12/Apr/2022 | |
| 20220412- MDI WG IMD Final-1 | 12/Apr/2022 | |
| 20220330-TDI MDI WG Getting Under the Skin of UK MDI Vignette-1 | 30/Mar/2022 | |
| 20220330-Q3-UK MDI Vignette-What is the next step by grouping-9 | 30/Mar/2022 | |
| 20220330-Q2-UK MDI Vignette-Characteristics that are missing from UK Vignette-1 | 30/Mar/2022 | |
| 20220330-Q1 UK MDI Vignette-Fundamental to UK MDI-1 | 30/Mar/2022 | |
| 20220330-Key Message UK MDI Vignette- Final | 30/Mar/2022 | |
| 20220330-Chat extracts from the MDI Spotlight-Getting Under the Skin of the UK StratCom MDI Vignette | 20/Mar/2022 | |
| 20211207-Key Messages from the MDI Spotlight event- Heat Map of MDI Future Focus and Attention | 07/Dec/2021 | |
| 20211207 – Results from the MDI Spotlight Sharp-Cloud exercises- Heat Map of MDI – Future Focus and Attention | 07/Dec/2021 | |
| 20211130-Key Messages from the MDI Deep Dive- Industry 4.0 and Enterprise Operating Model Transformation | 30/Nov/2021 | |
| 20211130-Chat extracts from the MDI Deep Dive- Industry 4.0 and Enterprise Operating Model Transformation | 30/Nov/2021 | |
| 20211123-MDI Deep Dive – Value Management Proposition and Framework | 23/Nov/2021 | |
| 20211123-Key Messages from the Deep Dive Event- MDI Value Management Proposition and Framework | 23/Nov/2021 | |
| 20211110-Chat extracts from the MDI Deep Dive- Conceiving the MDI Future and Industry 4.0 | 10/Nov/2021 | |
| 20211103-Chat extracts from the 'Spotlight session- What are the Collaboration, Commercial and Lifecycle Challenges for MDI | 03/Nov/2021 | |
| 20210806-MDIS_RFI_Team_Edit-V3 | 10/Feb/2022 | |
| 20210526-MDI Project Initiation Document | 26/May/2021 | |
| 20210128-MDI Workshop Activity | 28/Jan/2021 | |
| 20210101-MDI Integration Study Briefing Pack | 01/Jan/2021 | |