Introduction
As a Member of Team Defence Information (TD-Info), you are part of a unique organisation where Industry and the Ministry of Defence (MOD) work together to accelerate the transformation of Support Capability.  TD-Info Members have a common interest in value-enhancing solutions using innovative concepts and ideas that are fully sponsored by the Defence Suppliers Forum (DSF) and the MOD Chief of Defence Logistics and Support (CDLS) to promote secure collaboration and partnership between Industry and the MOD that ensures 'end-to-end' and 'Through-Life' Support.
Our history stems from the 1980's (formerly known as UKCeB) after a number of prime Defence companies wanted to create a neutral, not-for-profit forum for its members and UK Government to cooperate and exchange information for Defence Support.  This was underpinned by a strategy to enhance standards, improve support engineering, and reduce life-cycle costs, achieved through strong partnerships and seamless interaction with our MOD stakeholders.
Membership Benefits of Team Defence Information
Learn more about TD-Info Membership Benefits HERE.
By joining Team Defence Information (TD-Info for short), you are part of a unique organisation, a trusted forum where Industry and the Ministry of Defence (MOD) work together to accelerate adoption of secure information sharing capabilities and practices across the Team Defence Supply Chain and Support Network. Members have a common interest in value-enhancing solutions for Secure Collaboration – 'End-to-End & Through-Life'. As our new tagline states, we are about "collaborating and optimizing the value from business information working across Team Defence". TD-Info reports to the Defence Suppliers Forum.
As a company involved in defence, you will appreciate the need to communicate securely and share information in compliance with relevant policies and procedures. This is a significant challenge of itself. How do you also ensure that information flows efficiently and effectively to those that need it, in a timely yet auditable manner? There are many possible solutions – but will yours be interoperable, reusable and agile? These qualities let you avoid the additional cost burdens associated with using, bespoke, non-standard and 'locked-in' methods of information exchange.
The digital revolution is transforming business models and ways of working in defence, as everywhere. Digital by Default is a commitment throughout Government. And organisations are responding to the transformative power of the 'Nexus of Forces' (social media, mobility, cloud and information analytics or Big Data), the Internet of Things (IoT), Artificial Intelligence (AI), Digital Twin, Block Chain, etc.
TD-Info helps you make sense of these transformational changes, addressing coherence and working on pragmatic solutions.
What is meant by Team Defence
'Team Defence'is a shorthand reference for organisations that collaborate securely across the Defence enterprise to achieve End-to-End delivery of materiel and services, including support through-life. Team Defence is holistic and includes Users (e.g. the MOD, Allies, Other Government Departments and contractors) and Industry suppliers . The latter spans multinational prime-contractors and niche Small to Medium Enterprises (SMEs), securely collaborating across the Defence supply chain and support network.
The role of Industry in Team Defence is broadening as it undertakes a greater share of running operations on behalf of the MOD. Through a need to drive efficiency, both Industry and the MOD are interested in standardisation and use of so-called 'Common Off The Shelf' or COTS technology products. With its Team Defence construct, TD-Info promotes awareness that ('embedded Industry') suppliers are often 'co-Users' with the MOD of Information & Communications Technology (ICT) products and services. Hence, the TD-Info promotes shared understanding of good practices and facilitates a range of holistic Team Defence contributions in areas such as requirements specifications, scenario planning and policy development.
Some Team Defence Information Achievements
Here are a selection of TD-Info activities and achievements:
Industry Customer Engagement Forum (ICEF)

 

provides a regular forum for Industry to meet with MOD's Customer representatives from Digital Defence (formerly ISS) to review 'in-flight' changes happening with MOD services that impact Industry and to anticipate future ones to mitigate risk.  This includes work to promote the fact that Industry are significant customers (users) of Defence Digital services with approx 120,000 Industry members on the MOD network – as well as Industry being suppliers to MOD
Defence Standards Development & Adoption

 

– Fosters consultation with Industry over evolution of standards and interoperability, promoting these across Team Defence e.g. Def Stan 00-600

 

– the Integrated Logistic Support Requirements for MOD Projects
International Standards

 

representation: TD-Info helps to represent the interests of 'UK Defence plc' on International Standards committees.  E.g. the

 

Joint Information Standards Co-ordination Team

 

(JISCOT) co-ordinates, for the UK, the MOD and Industry representation in the identification, development, deployment and maintenance of a coherent set of standards to meet the needs of UK Defence within the scope of TD-Info activity. Another example is

 

S1000D, an international specification for the procurement and production of technical publications. In 2019 TD-Info facilitated the annual international S1000D User Forum 2019 and ILS Specification Day in London
Team Defence Perspective – helping MOD to understand the implications of increased outsourcing of services, including the need for earliest consultations with Industry about user requirements to hep ensure that they are not MOD-centric but are for Team Defence
Annual Good Practice Market Place & Excellence Awards – recognition of the collaborative achievements
LOGNET facilitation – TD-Info is entrusted with facilitation of the annual LOGNET event and LOGNET sub-groups that include Additive Manufacturing (AdM), AI – Artificial Intelligence, Robotics & Autonomous Systems (RAS)
Organises joint MOD/Industry Events: a 2-day Defence Information Event in April and a Support Event in Sept/Oct that will be a mid-point session between annual LOGNET events
Provides valuable continuity through: a mature joint MOD/Industry governance that sets priorities and projects and on-boarding MOD staff (and Industry staff) newly in post
Enables

 

Council members

 

from Industry (invited from the top-tier of membership) to network over dinners at the RAF Club and liaise with invited guests who are senior MOD staff representing relevant functions
Professionalism in Support – enables MOD & Industry to share understanding and good practice, working with accreditation bodies to find equivalences between MOD and Industry support competences and improve the professional standing for support staff at all levels
Secure Information Systems

 

(SIS) A Joint MOD/Industry User Requirements Document was created from workshops facilitated by TD-Info over a significant period of time
IdAM

 

– 'unlocking' Identity & Access Management across Defence would significantly improve collaboraton; to date TD-Info members have enhanced capabilities and understanding through producing demonstrations of capabilities
SEEOTI

 

– Signed & Encrypted Email Over the Internet was a successful project that demonstrated new capabilities in this area
DQAT

 

– Joint MOD/Industry work to create &

 

Promote use of a Data Quality Assessment Tool
Work to establish and better understand web-based secure access to

 

Collaborative Work Environments that has partly led to adoption
Delivery Continuity Executive

 

– Early Industry Consultation on Requirements; (formerly known as Green Box)
LCIA – Logistics Information Coherence Architecture created and hosted as web-based resource
TSCP – instrumental in Transglobal Secure Collaboration Project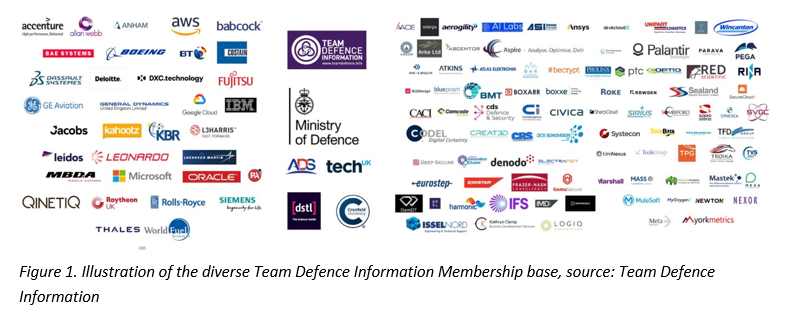 TD-Info Members comprise a diverse range of organisations from across MOD, UK industry, and academia.   A key benefit of becoming a TD-Info Member is you are part of a unique team able to interact directly with the UK MOD from the earliest stages of the engineering lifecycle and share information securely to influence future strategy and policies.