3
Sustainable Defence Support – A DSFDB Sub-working Group
Under Governance of the Defence Support Force Development Board (DSFDB) the purpose of the Sustainable Defence Support (Sus DefSp) Sub-Working Group (SWG) is to guide an accelerated development and exploitation path for sustainable, circular economy and carbon reduction activities across Defence Support.
The collaborative nature of the SWG is designed to promote pooling of talent and diversity of thought to achieve mutually beneficial outcomes in the development of a sustainable Defence Support Network (DSN) and Defence's realisation of NZ50 targets.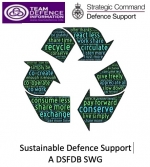 Upcoming Events
Recent Events
Battlefield Energy and Electrificat...
04/Jul/2023
Towards Self Sufficiency - A Sustai...
27/Jun/2023
TD-Info Futures: Low Carbon Bases W...
14/Oct/2022
Sustainable Defence Support Documents
| Title | Date | Link |
| --- | --- | --- |
| Towards Self Sufficiency – Flyer | 09/Jun/2023 | |
| Through Life Sustainability Toolset Task Form | 11/Mar/2022 | |
| Self Sustainment of Operating Bases.pdf | 08/Dec/2022 | |
| Redesigning operational infrastructure.pdf | 07/Dec/2022 | |
| Low Carbon Workshop Summary | 08/Dec/2022 | |
| 20230302-Session 5 Defence Operational Strategy – Operational Energy Conference | 02/Mar/2023 | |
| 20230302-Session 5 J Clare – Climate Change & Sustainability – Operational Energy Conference | 02/Mar/2023 | |
| 20230302-Session 4 OEC NATO ENSEC COE – Operational Energy Conference | 02/Mar/2023 | |
| 20230302-session 4 French Operational Energy Strategy – Operational Energy Conference | 02/Mar/2023 | |
| 20230302-Session 4 DoD Op Energy UK MOD – Operational Energy Conference | 02/Mar/2023 | |
| 20230302-Session 3 Operational Advantage & Resilience through Sustainability – BOEING – Operational Energy Conference | 02/Mar/2023 | |
| 20230302-Session 3 Aviation Sector Climate Change & Sustainability-AVM Lloyd – Operational Energy Conference | 02/Mar/2023 | |
| 20230302-Session 2 LR Global Maritime Influence – Operational energy Conference | 02/Mar/2023 | |
| 20230302-Session 2 GF Shore Power Presentation – Operational Energy Conference | 02/Mar/2023 | |
| 20230302-Session 1 RR MR (V1.0) Operational Energy Conference | 02/Mar/2023 | |
| 20230302-Session 1 Duncan Engeham Fuel Agnostic engines, supporting the Net Zero landscape – Operational Energy Conference | 02/Mar/2023 | |
| 20230302-Session 1 – Battlefield Power MCP Brief-Brig Mike Fayers – Operational Energy Conference | 02/Mar/2023 | |
| 20230302-Operational Energy Conference 2023 Presentations (Zip file) | 02/Mar/2023 | |
| 20220112-DE&S Environmental Strategy | 12/Jan/2022 | |
| 20210701-Sustainable Defence Support – Briefing Pack | 01/Jul/2021 | |
| 20210629-3 Sustainable Defence Support Net Zero Presentation | 29/Jun/2021 | |
| 20210615-NZ50 – Carbon Reduction Plans | 15/Jun/2021 | |
| 20210427-Sustainable Defence Support – Briefing Pack | 27/Apr/2021 | |
| 20210326-MOD Climate Change and Sustainability Strategic Approach | 26/Mar/2021 | |
| 20201217-Sustainability Defence Support – Submission of Supporting Business Cases | 17/Dec/2020 | |
| 20201214-Sustainability Defence Support Call for Sustainable Defence Support Development Ideas | 14/Dec/2020 | |
| 20201208-Sustainable Defence Support Briefing Pack | 08/Dec/2020 | |
| 20200824-Sustainable Defence Support – Supporting papers | 24/Aug/2020 | |
| 20200805-Roadmap Sustainable Defence Support | 05/Aug/2020 | |
| 20200417-Sustainable Defence Support Sub-Working Group (SDSp SWG) ToRs | 17/Apr/2020 | |
| 20200417-Sustainable Defence Support Implications Paper – Task Mandate | 17/Apr/2020 | |
| 20200417-Delivering Sustainable Military Support in the Future Energy Environment V0.2 | 17/Apr/2020 | |
| 2 – Mali Case Study – Deployed Operation Modelling.pdf | 08/Dec/2022 | |