3
Joint Obsolescence Management Working Group
The Joint Obsolescence Management Working Group (JOMWG) provides a forum for both the MOD and Industry to discuss existing and developing Policy, Advice and Guidance on Obsolescence Management matters; for promulgation across the whole of the UK Defence Sector. The JOMWG supports the JTLS SG objective of producing and exposing this joint Policy, Advice and Guidance to facilitate the letting and management of contracts in an efficient manner.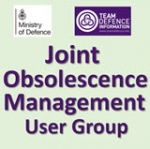 Upcoming Events
Recent Events
34th Joint Obsolescence Management ...
30/Nov/2022
33rd Joint Obsolescence Management ...
25/May/2022
Joint Obsolescence Management Working Group Documents
Events
Information on all sector-relevant events, run by TDI and other organisations.
General The Support Operating Concept creates a vision of the future supply chain.  At this event hosted at the Wincanton Innovation Centre we will consider the role of technologies such as AMR, warehouse digital twins, advanced manufacturing, internet of things, end...
News and blogs to keep you in the know. 
18/Jan/2023 @ 8:00 am - 19/Jan/2023 @ 3:30 pm Digital Engineering in UK Defence SCS23 provides the opportunity for the 'Team Defence' community to hear, first-hand, how Digital Engineering is transforming Defence. Digital Engineering offers the potential to reduce...
Engineering Support Transformation (EST) is a funded MOD programme looking to create support advantage though the application of Strategic Asset Management principles underpinned by digital engineering workflows. The programme is currently considering digital...
The Team Defence Information Bulletin for October 2022.