3
Future Capability Group Open Innovation Laboratory
The Future Capability Group (FCG) aims to provide Front Line Commands (FLC) and Defence Equipment & Support (DE&S) with an improved and expanded delivery capability for innovation projects and novel or cross cutting technologies.
In achieving this the FCG recognise the importance of engaging with a diverse community bringing together problem owners (Desirability), solution providers (Feasibility) and financiers (Viability) from across sectors. FCG recognises that new capability isn't all about the technology, it's about the people and the processes which the capability is devised, acquired and operates in.
This FCG Open Innovation Laboratory (OIL), facilitated by Team Defence Information (TD-Info), will provide a mechanism for open collaboration and development of focused use cases with input from across Commands, industry sectors and academia.
'Open innovation' refers to the increasing embrace of external cooperation in a complex world promoting an information age mindset toward innovation countering the secrecy and silo mentality of traditional research labs.
This FCG OIL will provide a distributed innovation process based on purposively managed knowledge flows across organizational boundaries, using pecuniary and non-pecuniary mechanisms in line with the DE&S's business model.
This activity acknowledges that open innovation is not solely firm-centric: it also includes creative consumers and communities of user innovators. The boundaries between the MOD and its environment have become more permeable; innovations can easily transfer inward and outward between Defence, across Sectors and between creative consumers, resulting in impacts at the level of the operator, pan-Defence, across sectors and throughout society.
At this stage it is not intended to create an extant working group but envisaged that FCG OIL will create a community contributing to activities that will vary depending on the specific mutually beneficial outcomes to be achieved. These could include:
Reviewing and providing industry input to strategy, policy and planning documents
Collaborative focussed workshops 'ideating' around specific problems and solutions
Providing briefings and early engagement on future commercial opportunities
Sharing knowledge through seminars covering the latest policy process, technology and operating models
The FCG OIL will not focus solely on the technology but overcoming the blockers to enable commercialisation of technology and new ways of working across Defence.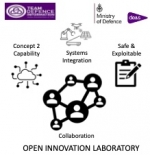 Upcoming Events
Digital Twin Community of Practice ...
19/Oct/2023
DAIC Robot Dog Hackathon...
07/Nov - 09/Nov 2023
Recent Events
Battlefield Energy and Electrificat...
04/Jul/2023
Towards Self Sufficiency - A Sustai...
27/Jun/2023
FCG OIL ADM HACK
03/Apr - 04/Apr 2023
Future Capabilities Group Documents
| Title | Date | Link |
| --- | --- | --- |
| Towards Self Sufficiency – Flyer | 09/Jun/2023 | |
| TD-Info Activity Chart | 15/Feb/2023 | |
| Support to Ukraine Innovation Fund | 01/Jun/2022 | |
| FCG Team Defence – Hydrogen Network Event, 16 Nov 22 – Output Report | 12/May/2023 | |
| Defence Operational Energy Conference 2023 – Day 1 Illustrations | 22/Mar/2023 | |
| API 4 RAS paper | 12/Apr/2023 | |
| 20230704 – MoD – Millbrook Energy Security & Nett Zero – Case for Nuclear H2 | 10/Jul/2023 | |
| 20230704 – Millbrook Workshop – TD6 Benefits and Challenges | 10/Jul/2023 | |
| 20230704 – Millbrook Workshop – Future Energy Trial Battlefield Energy | 10/Jul/2023 | |
| 20230704 – Millbrook Workshop – Battlefield Electrification | 10/Jul/2023 | |
| 20230505 – Team Defence support for MOD DE&S Future Capability Group (FCG)- Activity Update | 09/May/2023 | |
| 20230302-Session 5 Defence Operational Strategy – Operational Energy Conference | 02/Mar/2023 | |
| 20230302-Session 5 J Clare – Climate Change & Sustainability – Operational Energy Conference | 02/Mar/2023 | |
| 20230302-Session 4 OEC NATO ENSEC COE – Operational Energy Conference | 02/Mar/2023 | |
| 20230302-session 4 French Operational Energy Strategy – Operational Energy Conference | 02/Mar/2023 | |
| 20230302-Session 4 DoD Op Energy UK MOD – Operational Energy Conference | 02/Mar/2023 | |
| 20230302-Session 3 Operational Advantage & Resilience through Sustainability – BOEING – Operational Energy Conference | 02/Mar/2023 | |
| 20230302-Session 3 Aviation Sector Climate Change & Sustainability-AVM Lloyd – Operational Energy Conference | 02/Mar/2023 | |
| 20230302-Session 2 LR Global Maritime Influence – Operational energy Conference | 02/Mar/2023 | |
| 20230302-Session 2 GF Shore Power Presentation – Operational Energy Conference | 02/Mar/2023 | |
| 20230302-Session 2 20230227 Navy Def Operational Energy Conference | 02/Mar/2023 | |
| 20230302-Session 1 RR MR (V1.0) Operational Energy Conference | 02/Mar/2023 | |
| 20230302-Session 1 Duncan Engeham Fuel Agnostic engines, supporting the Net Zero landscape – Operational Energy Conference | 02/Mar/2023 | |
| 20230302-Session 1 – Battlefield Power MCP Brief-Brig Mike Fayers – Operational Energy Conference | 02/Mar/2023 | |
| 20230302-Operational Energy Conference 2023 Presentations (Zip file) | 02/Mar/2023 | |
| 20230209-Additive-Manufacturing-Hack-Launch-and-Networking | 09/Feb/2023 | |
| 20220729-API4RAS TASK FORM | 25/Jul/2022 | |
| 20220729-API4RAS Call to Action | 29/Jul/2022 | |
| 20220628-FCG HVM CoE launch V1.2 | 07/Jul/2022 | |
| 20210728-FCG OIL Industry Engagement Strategy | 28/Jul/2021 | |