Service Commission ASD Brussels 
The ASD Services Commission (SVC) promotes understanding and enables the development, deployment and management of standards for the support of service. activities and new services concepts.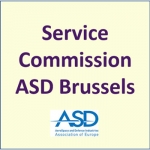 Events
Information on all sector-relevant events, run by TDI and other organisations.
Open to TD-Info Members and Non-Members This workshop is designed to offer an opportunity to shape defence software acquisition thinking and its future direction. It will explore current Software Acquisition Management Improvement (SAMI) work aimed at providing...
News and blogs to keep you in the know. 
The Future Capability Group (FCG) Open Innovation Laboratories (OIL) Additive Manufacture Hack will take place on the 3 & 4 April 23. We recently held a launch and network event the details of which are here: Additive Manufacturing Hack Launch and Networking 9...
The Team Defence Information Bulletin for February 2023
The Team Defence Information Bulletin for December 2022/January 2023