Service Commission ASD Brussels 
The ASD Services Commission (SVC) promotes understanding and enables the development, deployment and management of standards for the support of service. activities and new services concepts.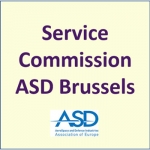 Events
Information on all sector-relevant events, run by TDI and other organisations.
The Strategy Group has been established to interpret the 3* Advisory Board's bi-annual areas of strategic focus along with outputs from the Team Defence Information Council to sponsor and approve Team Defence Information activities which align to these top-level...
News and blogs to keep you in the know. 
The Team Defence Information Bulletin for May 2023
The Team Defence Information Newsletter for June 2023
The Team Defence Information Bulletin for August/September 2023