Service Commission ASD Brussels 
The ASD Services Commission (SVC) promotes understanding and enables the development, deployment and management of standards for the support of service. activities and new services concepts.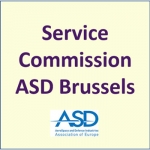 Events
Information on all sector-relevant events, run by TD-Info and other organisations.
The Team Defence Executive Team operate monthly sessions which will look to support and mature opportunities and guide the broad portfolio of Team Defence Activities so they align with the strategic direction and focus set by the Team Defence Strategy Group. This...
News and blogs to keep you in the know. 
The Team Defence Information Newsletter for June 2023
The Team Defence Information Bulletin for August/September 2023
The Defence Supplier's Forum Newsletter for May 2023