3
Joint Information Standards Co-Ordination Team (JISCOT)
The Mission of the Joint Information Standards Co-ordination Team (JISCOT) is to co-ordinate, for the UK, the MOD and Industry representation in the identification, development, deployment and maintenance of a coherent set of standards to meet the needs of UK Defence from this global activity within the scope of Team Defence Information (TD-Info) activity.
This is achieved through bi-monthly telecons and communications plus a TD-Info-hosted webpage (of a community of c40, there are c15 UK representatives ), escalation of issues to the JIG and DSCM SG and to represent the UK (through ADS) to ASD/AIA/ATA.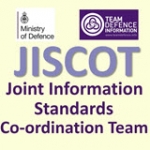 Upcoming Events
Recent Events
JISCOT Meeting
08/Nov/2022
JISCOT Meeting
04/Oct/2022
JISCOT Meeting
07/Sep/2022
Events
Information on all sector-relevant events, run by TDI and other organisations.
This course is a practical introduction for those who will use STE like technical authors or engineers in any sector including aerospace and defence. The course: Explains what STE is and the benefits of using STE Shows the delegates how to use the STE specification...
News and blogs to keep you in the know. 
18/Jan/2023 @ 8:00 am - 19/Jan/2023 @ 3:30 pm Digital Engineering in UK Defence SCS23 provides the opportunity for the 'Team Defence' community to hear, first-hand, how Digital Engineering is transforming Defence. Digital Engineering offers the potential to reduce...
Engineering Support Transformation (EST) is a funded MOD programme looking to create support advantage though the application of Strategic Asset Management principles underpinned by digital engineering workflows. The programme is currently considering digital...
The Team Defence Information Bulletin for October 2022.