3
Joint Information Standards Co-Ordination Team (JISCOT)
The Mission of the Joint Information Standards Co-ordination Team (JISCOT) is to co-ordinate, for the UK, the MOD and Industry representation in the identification, development, deployment and maintenance of a coherent set of standards to meet the needs of UK Defence from this global activity within the scope of Team Defence Information (TD-Info) activity.
This is achieved through bi-monthly telecons and communications plus a TD-Info-hosted webpage (of a community of c40, there are c15 UK representatives ), escalation of issues to the JIG and DSCM SG and to represent the UK (through ADS) to ASD/AIA/ATA.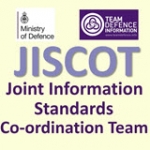 Upcoming Events
MOD IPS Transition Working Group...
27/Sep/2023
JISCOT Meeting
01/Nov/2023
JISCOT Meeting
03/Jan/2024
Recent Events
JISCOT Meeting
06/Sep/2023
JISCOT Meeting
27/Jul/2023
MOD IPS Transition Working Group...
25/Jul/2023
Events
Information on all sector-relevant events, run by TDI and other organisations.
The Strategy Group has been established to interpret the 3* Advisory Board's bi-annual areas of strategic focus along with outputs from the Team Defence Information Council to sponsor and approve Team Defence Information activities which align to these top-level...
News and blogs to keep you in the know. 
The Team Defence Information Bulletin for May 2023
The Team Defence Information Newsletter for June 2023
The Team Defence Information Bulletin for August/September 2023