3
Joint Information Standards Co-Ordination Team (JISCOT)
The Mission of the Joint Information Standards Co-ordination Team (JISCOT) is to co-ordinate, for the UK, the MOD and Industry representation in the identification, development, deployment and maintenance of a coherent set of standards to meet the needs of UK Defence from this global activity within the scope of Team Defence Information (TD-Info) activity.
This is achieved through bi-monthly telecons and communications plus a TD-Info-hosted webpage (of a community of c40, there are c15 UK representatives ), escalation of issues to the JIG and DSCM SG and to represent the UK (through ADS) to ASD/AIA/ATA.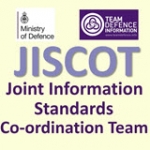 Upcoming Events
Recent Events
JISCOT Meeting
08/Nov/2022
JISCOT Meeting
04/Oct/2022
JISCOT Meeting
07/Sep/2022
Events
Information on all sector-relevant events, run by TDI and other organisations.
The Team Defence Executive Team operate monthly sessions which will look to support and mature opportunities and guide the broad portfolio of Team Defence Activities so they align with the strategic direction and focus set by the Team Defence Strategy Group. This is a...
Industry Customer Engagement Forum – regular Industry Engagement meeting, hosted by MOD, to address issues affecting Industry-based consumers of MOD-provided services.  Use the links below to add this virtual meeting to your calendar. For further information, please...
Building on last year's Defence Fuels and Sustainable Energy Conference and to collaborate and share the latest thinking across the stakeholder community a Defence Operational Energy Conference will be held 2nd & 3rd March 2023 at Worthy Down.
The conference will explore sectoral energy transition pathways to identify the implications and opportunities for the Operational Energy Authority to develop a capability that will secure future energy provision to the deployed force.
News and blogs to keep you in the know. 
The Team Defence Information Bulletin for October 2022.
Team Defence Information Bulletin for September 2022.
The Multi Domain Integration (MDI) working group successfully reached another waypoint in its evolution with the issue of its phase 3a report. The report covered the working group activities during the period from January to July 2022, with conclusions and...