3
Joint Information Standards Co-Ordination Team (JISCOT)
The Mission of the Joint Information Standards Co-ordination Team (JISCOT) is to co-ordinate, for the UK, the MOD and Industry representation in the identification, development, deployment and maintenance of a coherent set of standards to meet the needs of UK Defence from this global activity within the scope of Team Defence Information (TD-Info) activity.
This is achieved through bi-monthly telecons and communications plus a TD-Info-hosted webpage (of a community of c40, there are c15 UK representatives ), escalation of issues to the JIG and DSCM SG and to represent the UK (through ADS) to ASD/AIA/ATA.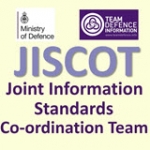 Upcoming Events
Recent Events
JISCOT Meeting
03/May/2023
JISCOT Meeting
08/Nov/2022
JISCOT Meeting
04/Oct/2022
Events
Information on all sector-relevant events, run by TDI and other organisations.
Industry Customer Engagement Forum – regular Industry Engagement meeting, hosted by MOD, to address issues affecting Industry-based consumers of MOD-provided services.   For further information, please contact Tony Butler[iFrameModal...
News and blogs to keep you in the know. 
Welcome to the second MDI Working Group Monthly Blog, a short communication document designed to bring insights and additional perspectives to the pursuit of Integration across the Defence Enterprise. Our MDI Working Group blog builds on the February Blog, continues...
The Team Defence Information Bulletin for April 2023
The Future Capability Group (FCG) Open Innovation Laboratories (OIL) Additive Manufacture Hack will take place on the 3 & 4 April 23. We recently held a launch and network event the details of which are here: Additive Manufacturing Hack Launch and Networking 9...