3
ASD-STE100 Simplified Technical English® (STE) Training Courses
What is STE?
ASD-STE100 STE is a well-developed specification that sits alongside the S-Series Integrated Product Support specifications. ASD-STE100 STE is a controlled language designed to make technical documentation clear, concise, and unambiguous.  Read more on the STE website here. Request the STE specification here.
Benefits of learning and using STE for you & your organisation
The benefits include reducing risk, increasing efficiency and saving time and costs. Using STE means that documents such as user and technical manuals, service checklists, and emails with technical content are clear, concise, accurate and structured.
How does TD-Info support STE?
The current STE specification is Issue 7 (2017). The Simplified Technical English Maintenance Group (STEMG) maintains and updates the specification, and we expect issue 8 in April 2021. There is also a United Kingdom STE Working Group (UK STEWG) that represents the UK on the STEMG, negotiates changes to the specification and promotes STE. TD-Info hosts both of these groups, which aim to meet four times a year.
This year we have appointed a new UK representative to the STEMG. The new representative, Ciaran Dodd, has nearly 20 years of experience delivering STE training to organisations in aerospace, defence, and other major sectors, all over the world. Ciaran is also the chair of the UKSTEWG. Additionally, in 2021, Ciaran would like to create a hub of STE expertise where users can ask questions, share best practice, and learn how STE supports efficiencies in technical documentation and Integrated Product Support. Please contact us if you use STE and would like to get involved.
Who should attend?
This course is a practical introduction for those who will use STE like technical authors or engineers in any sector including aerospace and defence. The course:
Explains what STE is and the benefits of using STE
Shows the delegates how to use the STE specification
Gives delegates opportunities to use STE in practical exercises.
We can adapt the course to suit your organisation so contact us to discuss this.
The rate for each delegate on the course is: £690.00 + VAT (tax) at 20%
Course length and content
Classroom delivery: 2 days (maximum 12 people) either at the Team Defence offices or onsite.
Online delivery: 4 half-day sessions on consecutive days. (Maximum 8 people.)
Why use STE
Grammar basics
STE rules:

Part 1:

Specific Grammatical Rules.
Noun clusters
Verbs

Part 2: General Writing Principles

Words, sentences and writing practices

Part 3: Types of Writing

Safety instructions
Procedural writing
Descriptive writing

Applying the principles of STE to your own documents
How can I get training in STE?

Our classroom STE training had to stop this year. We have a two-day classroom course, and we have an online version developed in response to the challenges of COVID.
To find out more about our programme of STE training for 2022, delegate rates and how to book, please email Ciaran Dodd.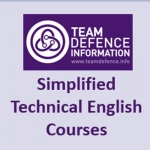 STE Training Course Documents