TD-Info (UKCeB) Excellence Awards – Year 2015 And Before
Competition Winners
2014  BAE Systems in conjunction with MOD DE&S and the Royal Air Force – "Maintenance and Force Intelligence Centres"
This entry was submitted in the Valuing Information as an Asset category. The developed capability delivered timely information to support UK Fast Jet operations at RAF Coningsby and Marham. The system provides the Maintenance and Force Intelligence Centres with a "Living" Dashboard of Aircraft status powered by information integrated from both MOD and industry sources.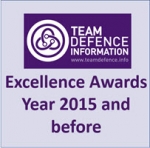 Excellence Awards Documents
Events
Information on all sector-relevant events, run by TDI and other organisations.
This course is a practical introduction for those who will use STE like technical authors or engineers in any sector including aerospace and defence. The course: Explains what STE is and the benefits of using STE Shows the delegates how to use the STE specification...
News and blogs to keep you in the know. 
18/Jan/2023 @ 8:00 am - 19/Jan/2023 @ 3:30 pm Digital Engineering in UK Defence SCS23 provides the opportunity for the 'Team Defence' community to hear, first-hand, how Digital Engineering is transforming Defence. Digital Engineering offers the potential to reduce...
Engineering Support Transformation (EST) is a funded MOD programme looking to create support advantage though the application of Strategic Asset Management principles underpinned by digital engineering workflows. The programme is currently considering digital...
The Team Defence Information Bulletin for October 2022.