TD-Info (UKCeB) Excellence Awards – Year 2015 And Before
Competition Winners
2014  BAE Systems in conjunction with MOD DE&S and the Royal Air Force – "Maintenance and Force Intelligence Centres"
This entry was submitted in the Valuing Information as an Asset category. The developed capability delivered timely information to support UK Fast Jet operations at RAF Coningsby and Marham. The system provides the Maintenance and Force Intelligence Centres with a "Living" Dashboard of Aircraft status powered by information integrated from both MOD and industry sources.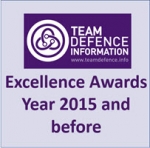 Excellence Awards Documents
Events
Information on all sector-relevant events, run by TD-Info and other organisations.
The Strategy Group has been established to interpret the 3* Advisory Board's bi-annual areas of strategic focus along with outputs from the Team Defence Information Council to sponsor and approve Team Defence Information activities which align to these top-level...
News and blogs to keep you in the know. 
The Defence Supplier's Forum Newsletter for November 2023
The Team Defence Information Newsletter for October 2023
The Team Defence Information Bulletin for May 2023