S1000D is an international specification for the procurement and production of technical publications. It is an XML specification for preparing, managing, and using equipment maintenance and operations information. It was initially developed by ASD for use with military aircraft. The specification has since been modified for use with land, sea, and commercial equipment. S1000D is part of the S-Series of ILS specifications.
The UK ASD S1000D National Sub Group meets to discuss issues concerning the development of the S1000D specification from a UK standpoint. It reports to the Combined Technical Documentation Working Group (CTDWG) through its nominated representatives.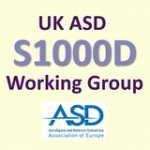 Events
Information on all sector-relevant events, run by TDI and other organisations.
Open to TD-Info Members and Non-Members This workshop is designed to offer an opportunity to shape defence software acquisition thinking and its future direction. It will explore current Software Acquisition Management Improvement (SAMI) work aimed at providing...
News and blogs to keep you in the know. 
The Future Capability Group (FCG) Open Innovation Laboratories (OIL) Additive Manufacture Hack will take place on the 3 & 4 April 23. We recently held a launch and network event the details of which are here: Additive Manufacturing Hack Launch and Networking 9...
The Team Defence Information Bulletin for February 2023
The Team Defence Information Bulletin for December 2022/January 2023