Team Defence Vanguard (TD-V)
The TD-V group work collaboratively, in a commercially neutral forum, to harness diversity of thought and challenge the norm of what is accepted to be possible. It drives for progress in what sometimes seems like an enterprise that moves slower than it can afford to; noting the vast and rapid technological and geopolitical developments of today. As such, it actively challenges the 'fast follower' trope which can all too often become the default ambition, and instead strives to provide the evidence and the energy to make Defence a leading enterprise that does the best it possibly can for our Armed Forces and empower Global Britain in a Competitive Age.
The TD-V has several key strategic themes:
Sustainability and Net Zero – to reduce the impact Defence makes on the planet
Ethics in AI – to challenge and ensure that AI technologies are adopted ethically and responsibly across Defence
Image of Defence – to improve the perception of Defence In an effort to increase access to a broader skills base
Future Technologies  – to ensure defence has the best tools for the job
Hybrid Technologies – working to improve the recognition, analysis and mitigation of Disinformation in the Supply Chain to secure the entire support network.
Space – to expedite the processes and policies of satellite design and launch, improving the efficiency and effectiveness of data and information for defence capabilities
The Vanguard board support the common and strategic aims of TD-Info with projects and initiatives such as an upcoming "Hackathon" being organised in cooperation with the Defence Artificial Intelligence Centre (DAIC) and Future Capabilities Group (FCG), where coders will compete to hack Boston Dynamics SPOT Robots. The results of this will inform the MOD Strategic approach to open API architecture for Robotics and Autonomous Systems.
The Vanguard are always looking for more keen professionals to join the board so if you are passionate about making a difference, please get in touch with Louise Hakner.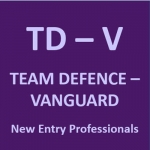 Events
Information on all sector-relevant events, run by TD-Info and other organisations.
A working group that seeks to identify and promulgate good practice in life cycle cost modelling across the UK Defence sector and contribute to the realisation of the DSCM vision. This next meeting will be held In-Person at TD-Info Offices and virtually using...
News and blogs to keep you in the know. 
The Team Defence Information Bulletin for May 2023
The Team Defence Information Newsletter for June 2023
The Team Defence Information Bulletin for August/September 2023