Joint Professional Development Working Group
The Joint Professional Development Working Group seeks to establish common methods of recognition for Supportability Engineering and Support/ Supply Chain Management professionals to UK Engineering Council Specifications. This includes Engineering Technologist (EngTech); Incorporated and Chartered levels.
This group was formerly called the Learning and Development Working Group (re-named December 2016).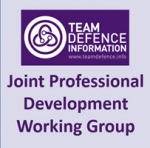 Joint Professional Development Working Group

Documents
Events
Information on all sector-relevant events, run by TDI and other organisations.
The 4th AdM As a Service Working Group (WG) will be held at the Manufacturing Technology Centre (MTC), Coventry on the 24th March 2023. The WG will provide attendees with the ability to engage with AdM colleagues across the UK MoD, Academia and Industry (OEMs &...
News and blogs to keep you in the know. 
The Future Capability Group (FCG) Open Innovation Laboratories (OIL) Additive Manufacture Hack will take place on the 3 & 4 April 23. We recently held a launch and network event the details of which are here: Additive Manufacturing Hack Launch and Networking 9...
The Team Defence Information Bulletin for February 2023
The Team Defence Information Bulletin for December 2022/January 2023