Support Chain Seminar 2023
18/Jan/2023 @ 8:00 am

-

19/Jan/2023 @ 3:30 pm
ENTENT"End to End Digital Engineering in the fourth industrial revolution promises the most profound change to the way we procure and support defence equipment in 50 years."
 Adrian Baguley, Deputy Chief Executive Officer & Director General Strategic Enablers
Digital Engineering in UK Defence
SCS23 provides the opportunity for the 'Team Defence' community to hear, first-hand, how Digital Engineering is transforming Defence. Digital Engineering offers the potential to reduce development times for new equipment, improve availably of in-service equipment for less money and reduced risk. The event will give an opportunity to understand the opportunities that Digital Engineering offers, discuss the key initiatives, exchange information, strengthen relationships, and become engaged in collaborative MOD/Industry Working Groups.
The event will include presentations on:
The operational and business benefits MOD wishes to achieve through Digital Engineering
Key lessons from different countries and different sectors on their Digital Engineering journey
How existing and new suppliers are using Digital Engineering to deliver battle winning solutions, faster and at lower cost
The event also provides an excellent career development opportunity for people to learn about the exciting technological developments and improvement initiatives that are happening across the UK defence community and how we can collectively deliver world-class support solutions and services for our armed forces.
The TD-Info Vanguard Team will be demonstrating and discussing career opportunities for young professionals in Defence and the Defence Industry during the evening Network Extra. We are offering a buy one ticket get one free scheme, please contact Sue Russell for more details.  
Day One – Delivering better equipment faster and at lower cost
Day Two – Digital Asset Management
PLEASE NOTE TICKETS FOR THE NETWORK EXTRA SESSION ARE SOLD OUT, ENTRY ONLY TO THOSE WHO BOOKED THIS SESSION WITH THEIR CONFERENCE SEAT.

Ticket Prices (all subject to 20% VAT)
TD-Info Members: One Day – £250/Both Days – £420/Virtual – £150
Non Members: One Day – £400/Both Days – £750/Virtual – £375
MOD: Free of Charge
Networking Extra Hot Buffet and Bar – £50/MOD Free of Charge
 Speakers confirmed or invited (STC)
Stephen Wilcock

, DE&S Dir Engineering & Safety, MOD 

Adrian Baguley, DE&S  Dep CEO, MOD – Keynote Address
Lt Gen Richard Wardlaw (Invited to speak), CDLS Strat Com, MOD – Digital Engineering to deliver operational advantage
Industry DSF – Keynote Address
Anton Burford, Capability Director, Aeralis – Too Digital or Not Too Digital
Dr Alex Rose-Parfitt, Engineering Director, Raytheon UK – Building the digital Missile
Richard Wray, Engineering Director, MBDA – Building the digital Missile
Nick Smallwood, CEO, Infrastructure & Projects Authority, MOD – Digitalising Government Business 
Prof Duncan Kemp, DE&S Digital Engineering Team Leader –The DE&S Digital Engineering Transformation Strategy and Implementation Plan
Craig Spacey, Group Support & Services Director, BAE Systems – BAE Systems Digitalisation Journey 
Rolls-Royce (invited to speak) – Intelligent Engine Services at Rolls-Royce
Mark Walker, Application Engineering Manager, MathWorks UK – Making A Digital Twin a Reality – From Engineering concept to Through Life Technical Support
Nigel Shaw,

CDIO and Director, Defence Equipment and Support

(invited to speak/TBC) – Improving Defence Outputs – The role of Digital Engineering
Dr Richard Drake, CTO, Babcock International – Engineering Support Transformation and Digital Asset Management
Ryan England, Head of Service Transformation (UKL), Thales – Making Digital Transformation a Reality: An OEM's Journey
Dr Will Roper – A US Perspective on the Digitalisation of Defence
TBC – Digital Engineering Experience
Andy Start, CEO DE&S (invited to speak/TBC) – Finale Speaker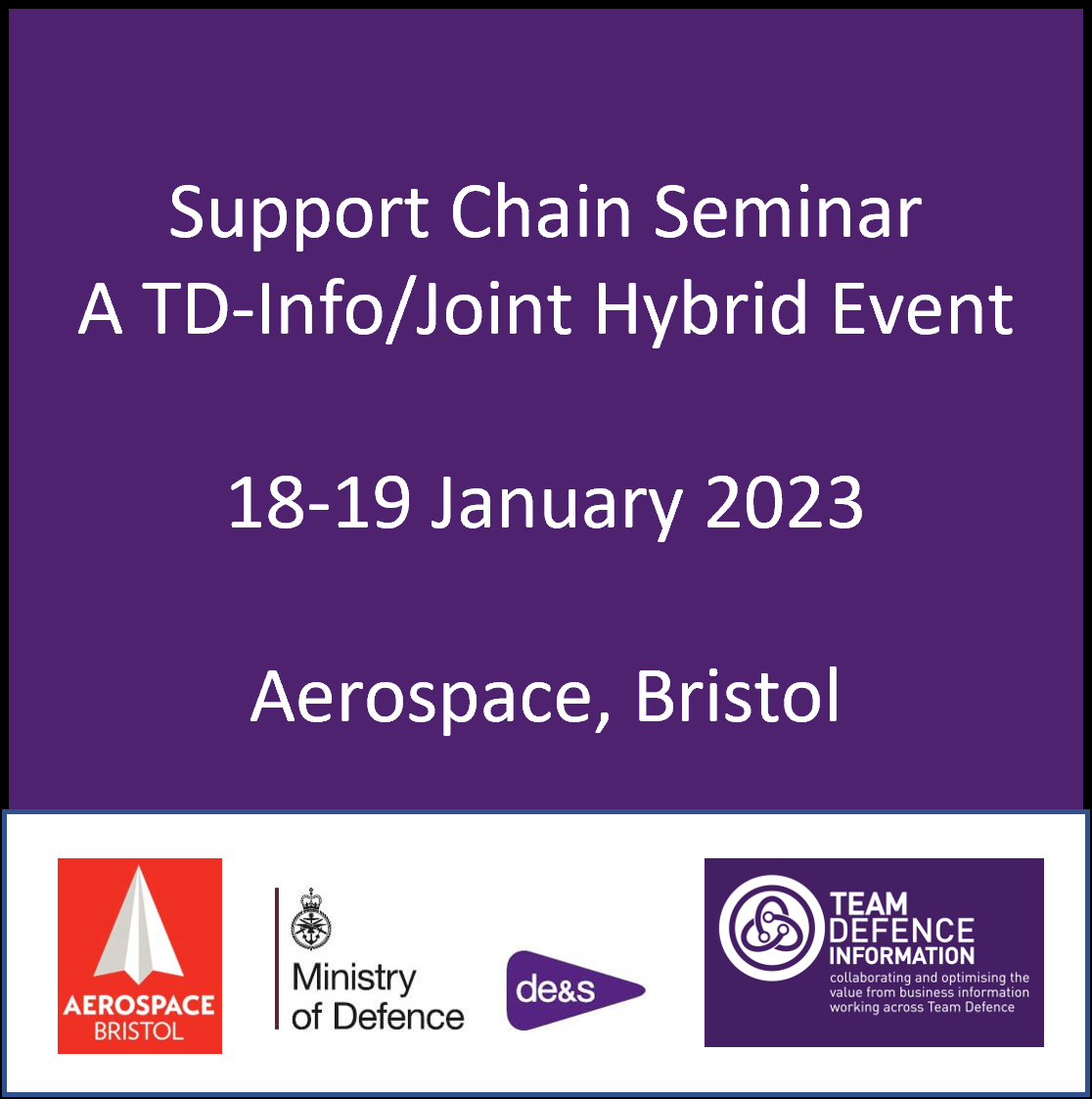 SCS23 offers an excellent opportunity to reach out to a diverse and relevant audience. With numbers expected to reach over 300 and a mix of MOD, Defence Industry plus promising young professionals, it is the event to kick start your 2023. If you would like to sponsor or exhibit at SCS23, please contact Sue Russell for more information. Prime, standard and exhibition packages available, please book early.
To assist with travel arrangements:
The Venue – Aerospace, Bristol – https://aerospacebristol.org/find-us – click the link for location. Please note car park spaces are limited, we recommend the use of taxis where possible
Nearest Train Stations
Bristol Parkway
Abbeywood
Hotels
Village Hotel Bristol (0.78 miles)
Mollie's Motel & Diner (1.41 miles)
Lodge at Bristol (1.49 miles)
Aztec Hotel & Spa (1.52 miles)
Holiday Inn Express Bristol – Filton, an IHG Hotel (1.52 miles)
DoubleTree by Hilton Bristol North (1.71 miles)