DSDTCoP – Flare Investigation Task – Composition – Combustion Modelling
The solution needs to be able to take the shape of a pyrotechnic pellet, details of the pyrotechnic composition the pellets are made of and the density of the pellet, all as inputs, and be able to output a reasonably accurate suggestion of how the combustion of the pellet would progress over time and what the emission from the pellet would be in certain electro-optic wavebands over time. Conversely, the system should also allow the user to input an emission over time profile, and the system will then provide a suggestion of a suitable pellet shape that give the emission over time profile when combusted. The user should also be able to set limits on certain pellet shape dimensions. It is also desirable that certain burn inhibition effects such as pellet hardware be included.Background
The field of Digital Twins as a whole holds incredible possibilities within the entire defence landscape.
In the case of air countermeasures – specifically flares – the ability for them to provide a decoy is a well-established concept and has been in service in the RAF since the 1960s with the Vulcan bomber. Not only is it relevant for today as a countermeasure, it will also be relevant for the foreseeable future.
Digital simulations and representations of flares systems have the potential to provide the MOD with an improved design, test, evaluation and through life support capability for its countermeasure assets. MOD have selected five topics for the Digital Twin Community of Practice to help them understand new approaches.
Composition – Combustion Modelling
What are we looking for? – The purpose of the task is to further develop our understanding of the behaviour of pyrotechnic pellets and be able to graph the relationships between pellet design features such as surface area and cross-section, and their corresponding burn properties such as burn rate and electro-optic emissions.
Technical description – The solution needs to be able to take the shape of a pyrotechnic pellet, details of the pyrotechnic composition the pellets are made of and the density of the pellet, all as inputs, and be able to output a reasonably accurate suggestion of how the combustion of the pellet would progress over time and what the emission from the pellet would be in certain electro-optic wavebands over time. Conversely, the system should also allow the user to input an emission over time profile, and the system will then provide a suggestion of a suitable pellet shape that give the emission over time profile when combusted. The user should also be able to set limits on certain pellet shape dimensions. It is also desirable that certain burn inhibition effects such as pellet hardware be included.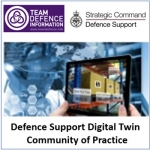 DSDTCoP – Flare Investigation Task – Composition – Combustion Modelling Documents