Committee for Defence Equipment Reliability & Maintainability
In order to ensure that military capability is maximised through optimal levels of equipment Reliability and Maintainability (R&M) it is essential that MOD and industry co-operate to their mutual advantage. The Committee on Defence Equipment Reliability & Maintainability (CoDERM) was established to provide a Community of Practice to facilitate that co-operation.
The CoDERM provides a mechanism for:
MOD and industry to develop mutually beneficial R&M practices, techniques, research programmes and training.
Equipment R&M improvements.
The resolution of difficulties arising from MOD or industry practices.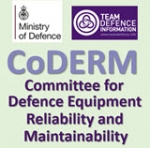 Committee on Defence Equipment Reliability & Maintainability Documents
Events
Information on all sector-relevant events, run by TDI and other organisations.
Open to TD-Info Members and Non-Members This workshop is designed to offer an opportunity to shape defence software acquisition thinking and its future direction. It will explore current Software Acquisition Management Improvement (SAMI) work aimed at providing...
News and blogs to keep you in the know. 
The Future Capability Group (FCG) Open Innovation Laboratories (OIL) Additive Manufacture Hack will take place on the 3 & 4 April 23. We recently held a launch and network event the details of which are here: Additive Manufacturing Hack Launch and Networking 9...
The Team Defence Information Bulletin for February 2023
The Team Defence Information Bulletin for December 2022/January 2023