Committee for Defence Equipment Reliability & Maintainability
In order to ensure that military capability is maximised through optimal levels of equipment Reliability and Maintainability (R&M) it is essential that MOD and industry co-operate to their mutual advantage. The Committee on Defence Equipment Reliability & Maintainability (CoDERM) was established to provide a Community of Practice to facilitate that co-operation.
The CoDERM provides a mechanism for:
MOD and industry to develop mutually beneficial R&M practices, techniques, research programmes and training.
Equipment R&M improvements.
The resolution of difficulties arising from MOD or industry practices.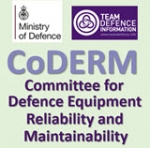 Committee on Defence Equipment Reliability & Maintainability Documents
Events
Information on all sector-relevant events, run by TDI and other organisations.
This course is a practical introduction for those who will use STE like technical authors or engineers in any sector including aerospace and defence. The course: Explains what STE is and the benefits of using STE Shows the delegates how to use the STE specification...
News and blogs to keep you in the know. 
18/Jan/2023 @ 8:00 am - 19/Jan/2023 @ 3:30 pm Digital Engineering in UK Defence SCS23 provides the opportunity for the 'Team Defence' community to hear, first-hand, how Digital Engineering is transforming Defence. Digital Engineering offers the potential to reduce...
Engineering Support Transformation (EST) is a funded MOD programme looking to create support advantage though the application of Strategic Asset Management principles underpinned by digital engineering workflows. The programme is currently considering digital...
The Team Defence Information Bulletin for October 2022.