Communities Of Practice Archive
Engineering Support Transformation User Forum 
Shares best practice in Engineering Support across As-Designed & As-Built to As-Used & As-Maintained. Its task-focused engagements will provide a means for Industry to engage with the Support Transformation Engineering Support Transformation programme.
Through Life Information Management
Through-Life Information procedures and content for IPT Through-Life Information Management Plans. Provides the overarching governance across information policies, standards, security and information life-cycle requirements in a standard reusable framework to assist business users in working with through-life management.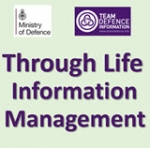 Our "Communities of Practice" bring together Defence Industry and MOD members, combining their knowledge and intellect, to mutually advance the understanding of common areas of interest.
The output of these Communities of Practice usually develops into a White Paper, provides the focus for establishing a Working Group, or initiates a collaborative Industry/MOD Project.  
Events
Information on all sector-relevant events, run by TDI and other organisations.
The Strategy Group has been established to interpret the 3* Advisory Board's bi-annual areas of strategic focus along with outputs from the Team Defence Information Council to sponsor and approve Team Defence Information activities which align to these top-level...
News and blogs to keep you in the know. 
Introduction from our Managing Director, Phil Williams We really enjoyed meeting so many of you at Defence Information 2022 last month. After the pandemic, it was great to be anywhere! I was grateful to Charlie Forte for opening the conference by setting the scene...
 VIMA is proud to announce it has entered into a definitive agreement to be acquired by KBR. KBR delivers science, technology and engineering solutions to governments and companies around the world. KBR employs approximately 28,000 people performing diverse, complex...
Introduction from our Managing Director, Phil Williams Dear TD-Info members We're heading towards the mid-year point, and what a year it has been. We are busily preparing for the third of our major conferences this year, Defence Information '22. Post-Covid, we are...